Meet Jesus
Tuesday - May 30, 2023
Have you met Jesus? If not, may we introduce Him to you?
Proverbs 18:24 says "A man of many companions may come to ruin, but there is a friend who sticks closer than a brother".
That friend is Jesus Christ. In our times of despair and in times of joy, we have called out to Him and He has always responded, often in surprising ways.
John 1:12 says "but as many as received Him (Jesus), to them He gave the right to become children of God, even to those who Believe on His name".
Romans 3:22 - 24 states "This righteousness from God comes through faith in Jesus Christ to all who believe. There is no difference, for all have sinned and fall short of the glory of God, and are justified freely by his grace through the redemption that came by Christ Jesus".
Romans 5:8 says "But God demonstrates his own love for us in this: While we were still sinners, Christ died for us".
How many people do you know who would give their life for you? Jesus did. He gave His life for you and for us so that our sins would be forgiven.
Romans 10:13 says "for everyone who calls on the name of the Lord will be saved".
John 10:10 says "I have come that they may have life, and have it to the full".
John 15:5 says "I am the vine; you are the branches. If a man remains in me and I in him, he will bear much fruit; apart from me you can do nothing"
Romans 8:34-35 says "Who shall separate us from the love of Christ? Shall trouble or hardship or persecution or famine or nakedness or danger or sword?"
If you have never surrendered your life to Jesus or if the struggles and temptations of life have caused you to drift away from Him, why not take a moment right now and invite Him into your life. Knowing your sins are forgiven and you are ready for heaven is as simple as following these steps:
A. Admit that you have sinned
"If we say that we have no sin, we are deceiving ourselves, and the truth is not in us." (I John 1:8)
B. Believe in Jesus.
"For God so loved the world that he gave his one and only Son, that whoever believes in him should not perish,
but have eternal life." (John 3:16)
C. Confess and forsake your sin.
"If we confess our sins, He is faithful and just and will forgive us these sins
and cleanse us from all unrighteousness." 1 John 1:9
Pray this prayer below: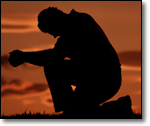 HEAVENLY FATHER: I come to you in prayer asking for the forgiveness of my sins. I confess with my mouth and believe in my heart that Jesus is your Son, and that He died on the cross at Calvary that I might be forgiven and have eternal life in the Kingdom of Heaven. Father, I believe that Jesus rose from the dead and I ask you right now to come into my life and be my personal Lord and Savior. I repent of my sins and will worship you all the days of my life! Because your Word is Truth, I confess with my mouth that I am born again and cleansed by the Blood of Jesus. In Jesus Name, Amen.

If you read this Prayer and truly believe the words that you read, then Praise the Lord as you have been saved and your name will appear in the "Lambs Book of Life!" The first step is to purchase a Bible, so that you can start your relationship with God! The next step is to find a church where you and your family can go to worship. Did you know that, God and his Angels Celebrate, when his children that were lost, come home? Well, they do! Praise God for Mercy.
If you just prayed this prayer and would like to share it with us, we would love to hear from you. Please Contact Us and let us know.